The Lèrsc Apartment
The Lérsc Apartment (or "Larice" in Ladin- Fascian dialect) was designed and built to host a couple or a couple with a child, in a romantic, intimate setting. It is a typical mountain one-room apartment of 35 m2, located on the ground floor of the house. It is composed of a large living room with a 32-inch Sat. TV, a charming kitchenette complete with dishwater, fridge with small freezer, microwave oven and vitreous ceramic hob top;
It has one bedroom with a double bed, and a comfortable sofa-bed that can be used as and when required, a bright bathroom with a shower cabin and a hairdryer. Guests have access to a safe and free Internet access is provided. The particularly quiet area in which the apartment is located makes it a little corner of paradise for new couples, or for those who have been together for many years and want to recreate a sweet, intimate atmosphere conducive to the tender actions and feelings which flowered long ago but have stood the test of time.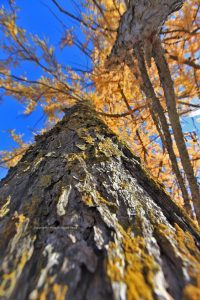 For people in the north and in the Dolomites, the larch has always been seen as a cosmic tree that connects heaven and earth, the world of the gods and that of dead souls. It is often confused with the pine tree; but unlike the other conifers the larch sheds its leaves in autumn. After the oak, it's the tree that best suits many of Victor Hugo's beautiful expressions: the larch, the tree that has always been one of the most important elements in popular Alpine traditions and in the most ancient history of our high valleys. In fact, back in ancient times, the mountain people used to hang the skins of the animals that they had just hunted on its branches, as an offering in exchange for a prosperous and so joyful winter. For this reason, the larch has always represented sturdiness for the mountain communities as it grows even on extremely steep slopes and often on stony ground. Instead, in springtime, as if by magic, its needles become covered in a thin transparent layer that is often compared to a bride's veil.